Pride Poets
A space for LGBTQ+ Poets to be in dialogue. This Pride, you can call our poetry hotline to get a custom poem!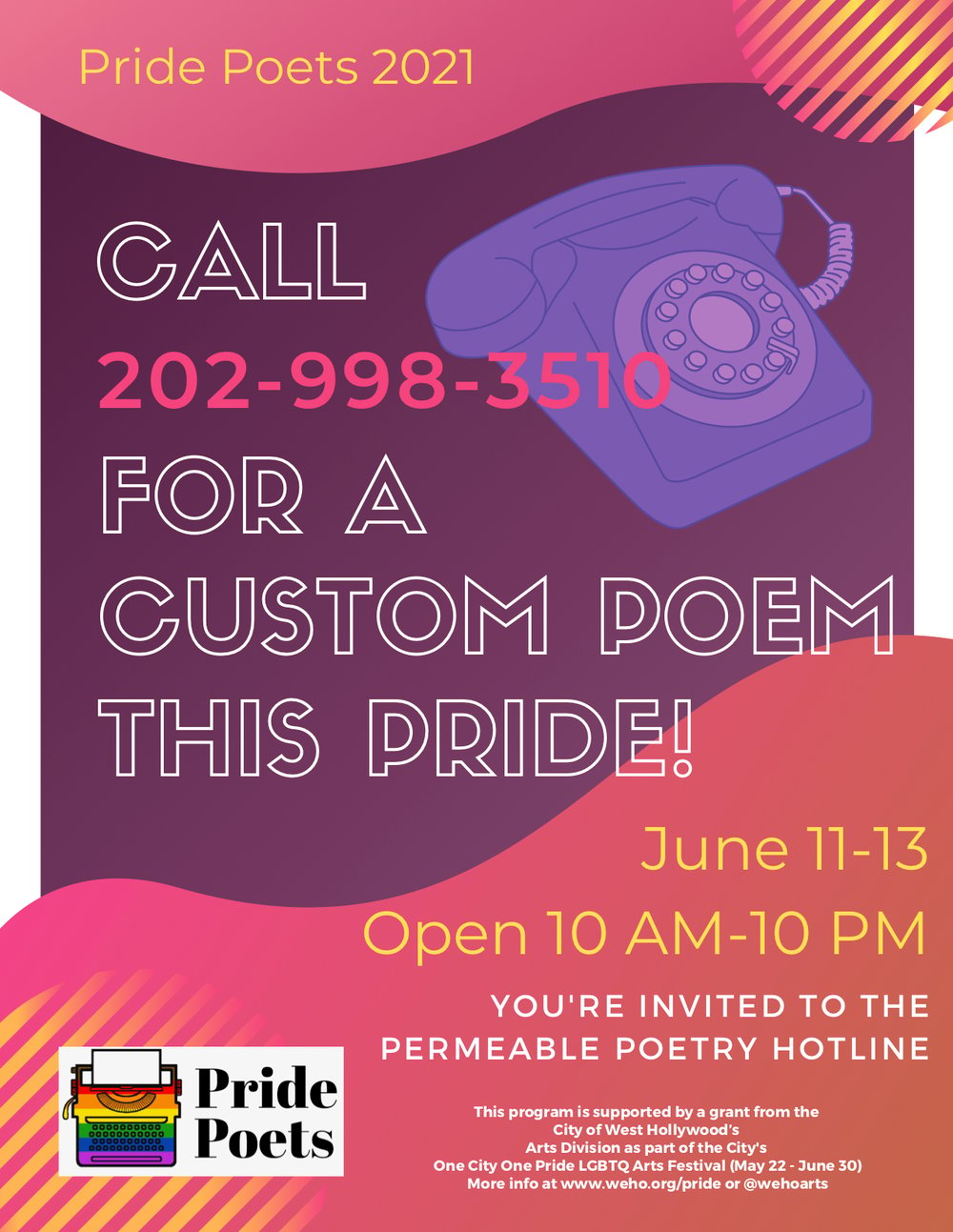 June 11-13, 10am-10pm PT get a custom poem!
Call in this Pride to speak to a poet, have a poem written, and receive a copy via mail or email. The whole process takes 10 minutes and will change your day.

Our goal is to write 500 poems! For each call you make up to 500 calls, our anonymous donor will contribute $15 to the LA LGBT Center, which provides services for more LGBT people than any other organization in the world.

Part of the City of West Hollywood's One City One Pride festival.
Hear our Poems from the Hotline!
The best of 299 poems written for strangers over the phone during a global pandemic in Pride month, celebrating queer survival in partnership with LA County Public Library
A blast from 2020...Pride Mic!
Pride Mic is an inclusive LGBTQ+ lit space online. Each mic will have open mic time, queer history features, and Pride Poets (us!) writing & performing spontaneous work based on the history and others' performances during the event. I'm missing being in space & community so much. Hope we can make that here.

If you're interested in receiving a custom poem from our poets, you can request one at bit.ly/yourpridepoem.
Learn more about what we do
Pride Poets
We are a RENT Poet Project, made possible by a One City One Pride grant from the City of West Hollywood and organized by Brian Sonia-Wallace. Returning Pride Poets from 2019/2020 include Catherine Gewertz, Reg Clarkina, Jen Cheng, Carla Sameth, Natalie Nicole Dressel, Hank Henderson, Grey Rain Valdez, Molly Thornton, Victor Yates, & more. Our graphic designer is Adrian Rodriguez.

Thank you for believing in the gift of poetry! If you would like to donate to the project, you can do so via Venmo (@pridepoets) or PayPal to [email protected] Our goal is to raise $500 in additional project funds through donations, every bit helps!