Pride Poets
A space for LGBTQ+ Poets to be in dialogue. This Pride, you can call our poetry hotline to get a custom poem!
Want to write with us?
Join the Poetry Hotline Crew!
for LGBTQ+ writing community, training in custom poem writing, & more!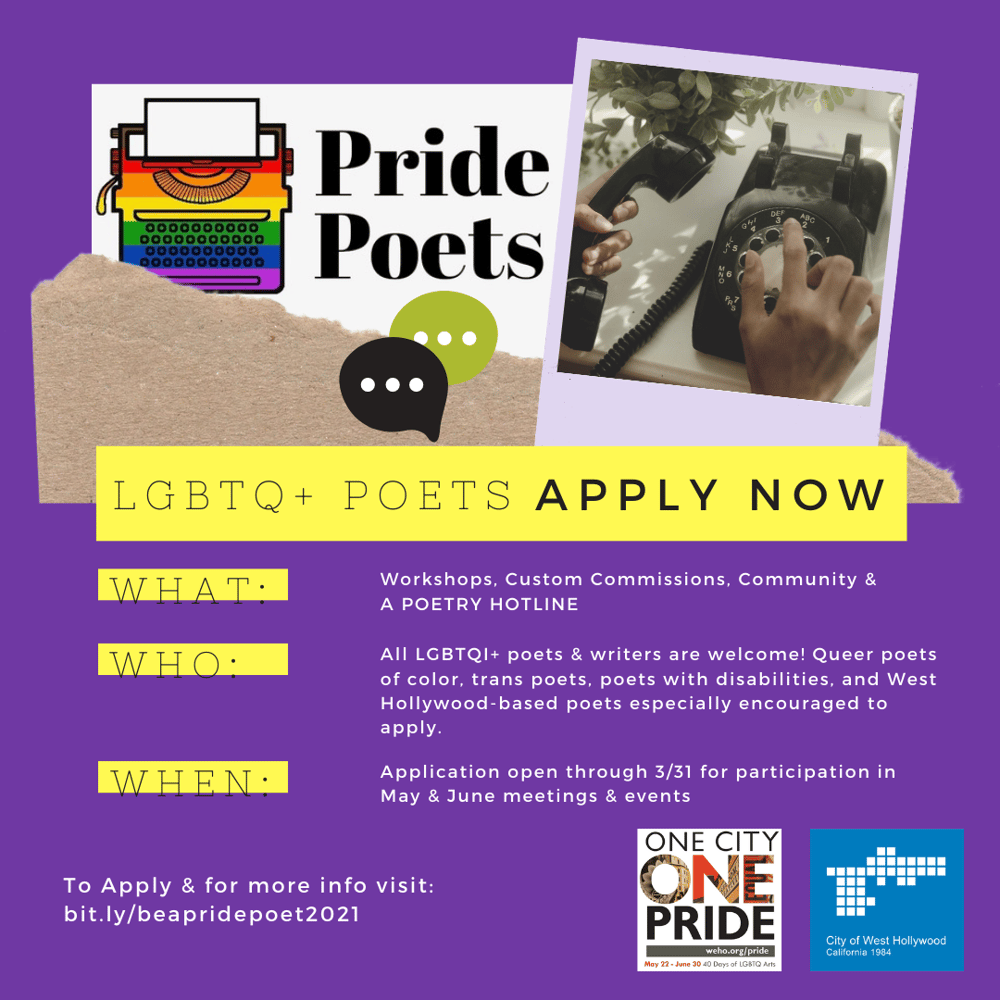 A blast from 2020...Pride Mic!
Pride Mic is an inclusive LGBTQ+ lit space online. Each mic will have open mic time, queer history features, and Pride Poets (us!) writing & performing spontaneous work based on the history and others' performances during the event. I'm missing being in space & community so much. Hope we can make that here.

If you're interested in receiving a custom poem from our poets, you can request one at bit.ly/yourpridepoem.
Learn more about what we do
Pride Poets
We are a RENT Poet Project, made possible by a One City One Pride grant from the City of West Hollywood and organized by Brian Sonia-Wallace. Returning Pride Poets from 2019/2020 include Catherine Gewertz, Reg Clarkina, Jen Cheng, Carla Sameth, Natalie Nicole Dressel, Hank Henderson, Amy HS, Grey Valdez, Molly Thornton, Victor Yates, & more. Our graphic designer is Adrian Rodriguez.

Thank you for believing in the gift of poetry! If you would like to donate to the project, you can do so via Venmo (@pridepoets) or PayPal to [email protected] Our goal is to raise $500 in additional project funds through donations, every bit helps!